Here are 5 powerful books about love and therapy, to help you feel less alone if you're going through therapy.
It can feel like you're the only person who ever felt such strong attachment and need for their therapist, but you're not.
Reading about others' experiences of therapy can help you understand the yearning, love and connection that often happen between a patient and their therapist.
Those feelings can make us vulnerable and confused but good books can help. 
I'll add to this list over time. x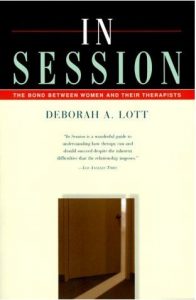 Why do so many women develop profound feelings for their therapists? What makes the therapy bond different from any other, and what factors make it therapeutic? In Session enters the consulting room and cuts straight to the heart of the complex psychotherapy relationship.
One of the first books I ever read about therapy and the therapeutic relationship. There weren't many relatable books like this one about being in therapy way back in 2000 when I was inextricably in love with my therapist.
This book was rare and supportive, and I think it still hold its own as a useful therapy resource.
Reader Sheri wrote about In Session in a similar way on Goodreads:
I have been looking for a book like this for years. If you are a woman who is engaged in therapy (or has been or is considering being) this is a great read! It has so much good information on what may make or break the therapeutic relationship, one that I find to be extremely difficult to define. I will keep this book in my reference library.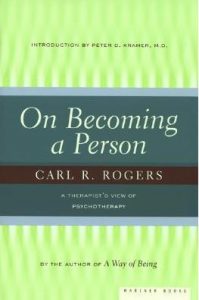 A classic text from the therapist's point of view that remains a classic decades after publication.
Dr Carl Rogers, founder of the humanistic psychology school of thought, revolutionized psychotherapy by focussing on the client as being an expert on themselves. Instead of imposing opinions and analysis, he emphasized "client-centred therapy" which is now a mainstream concept in psychotherapy.
His work was built around listening and partnering a client in their journey, empowering them as their own greatest resource, able to be their own hero.
This classic work is insightful if you're wanting to understand more about the history and philosophies on which most modern psychotherapies are based.
Here's just one of this book's many reviews, this one from Dave Labranche:
This is an extremely valuable book for all "thinking humans" to read. It really helped me begin to understand myself, and it gave me insights that allowed me to eventually discover what makes me happy, what motivates me, what I truly need to AVOID in life (because I'm just not wired to deal with it) and in general it gives you a framework for finding your inner self.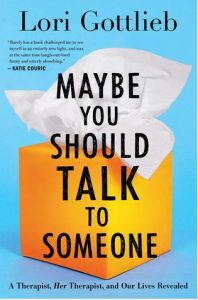 This book by a therapist, about her patients and her own therapy is a bestseller.
The author's voice is warm and engaging, yet I'll admit I struggled to get through some of the chapters where there was some extra painful existential subject matter. Sometimes this was like a big, exhausting day at work for me, being in the same profession as the author, but that means it felt real!
Was I expecting a story of greater transformation, insight and growth than this book offered? I think so.
However, that being said, the book has been generally very well-received by readers and does give plenty of insight into what it is to be a therapist, and to be in therapy.
Here's some of what's been said about it:
What is therapy like? The author breaks down the walls and gives us a peek behind closed doors into her sessions with clients as well as sessions with her own therapist, who she consults after a devastating break-up. We also get glimpses into the author's education, career, and her personal life.

I felt as if I got to know her and her patients and I became invested in their lives. Details were changed for confidentiality, but the spirit of the stories remained true and the problems were real. Goodreads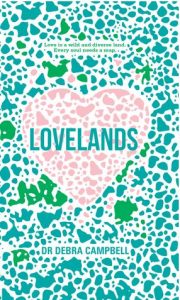 This is a memoir by a therapist about her intimate, personal struggles, her work with patients, and her own extraordinary relationship with her therapist.
It's a story of love, sex, ethics and betrayal, of devastating loss, ultimately about personal growth.
Disclaimer: I'm biased about this one, so I'll share a couple of reviews:
Claire Zidich on Goodreads:
THIS BOOK WILL CHANGE YOUR LIFE.

Now that I have your attention I would just like to recommend that every single one of you read this book. I have always loved the idea of self help books but I never really finish them. I find that they all share the same or similar message and are more often than not – frustrating.

This is different. I have never connected on such a deep level as I have with this book. I've been going through "love hell" recently, with the breakdown of a long term relationship 6 months ago, meeting new men, some average, some nice, some horrendous and I was fed up. Tired of trying, tired of everything.

There is no reason why I chose this particular book at the library, I just grabbed it off the shelf in the mix of hundreds of others. I have never been more thankful or grateful for a split decision. This book is not just for the broken or confused. It is for every single one of us, whether we're in a relationship, single, heart broken, happy, confused or fortunate. If our self esteem is high or low, if we're married or divorced. The lessons I have learnt from reading this are astounding.

It will bring you peace, it will bring you hope and it really will change your life ? and now I'm off to buy my own copy because I can never let this book go.
Eleni Modinos on Goodreads:
This book is currently serving as my bible. It resonates with me so much and to be able to have this material at 21 years of age. I am so grateful for all the hard work, and the courage Dr Debra has taken to create Lovelands. It's simplicity and the insight. Is just incredible and practical for anyone. Everyone needs a copy and needs to share this because the human race can learn to love a lot better! I love love love this!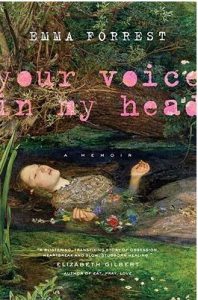 This book met with very mixed reviews – it was very liked and sometimes very disliked.
As a therapist, I am careful about recommending any memoirs containing detailed accounts of self-harm and serious mental illness in case they are more upsetting than healing to some readers. The jury is out on this book – it could go either way depending on the reader's situation –  great for some readers, but not for everybody.
I liked many aspects, but struggled with some parts of this intense girl in therapy in New York memoir which included some Hollywood celebrity mixing, surviving an eating disorder, devastating self-harm and the journey of therapy.
There's a lot here to explore if you want to delve into another's mind in their good times and very bad – Emma shares openly. She dives bravely into what it was like to fall into a place of suicidality, how she felt her therapist saved her life and the loss that happened beyond that
Here's another review of this interesting read:
Good book. Wafty cover image put me off but this is a wrenching book about mental health and the brilliant people who look after it. What happens when you lose the person whose voice is keeping you alive. a shattering, yet hilarious and poignant little book about it all, and laden with many a hip industry in-joke to boot. Highly recommended. Brendan on Goodreads.
I'm keeping an eye out for other books about the experience of the therapeutic relationship from therapists and patients, and I'll be adding to this list as I discover more books in the genre I think might be useful to readers. xxx