Psychological Strategies & Coaching, delivered online
Email coaching is my latest offering. It's highly cost effective and is proving to be very popular, filling a gap for a lot of people who've been wanting to ask questions and discuss non-urgent issues. . You can organize it below.
If you'd like a virtual appointment with me, I have limited openings for new clients to undertake coaching and psychological strategy sessions for pursuing life and emotional health goals.
Sessions are booked and billed securely in a simple, streamlined process. All of my clients are offered ongoing daily positive psychological support and ideas on email (via The 3 Loves Project), in addition to individual psychological strategies for self-understanding and personal growth, in our private online meeting room via Zoom meetings.
(For Australian residents in remote areas, Medicare rebates may apply for some psychology services when you are referred under a GP Mental Health Care Plan).
Please be very clear –  the online psychological strategies and coaching I am able to offer online, are not suitable to you if you are suffering from a mental illness, or if you are dealing with an emergency situation. Working with me online is not suitable to any person who is in an actively abusive relationship. It is vital that you find immediate support in your local area if you are in an abusive situation or you are suffering from a mental illness. If you do not know where to start, see your local doctor for a referral or contact a 24 hour support line in your area for advice. A range of Australian based emergency mental health contacts are listed at the bottom of this page and are updated as we become aware of any changes.
You can book an online video appointment with me below:
The 3 Loves Project
A bold experiment over 365 days (you can start at Day 1 anytime) devoting a minimum of 3 conscious minutes a day to positive mental health strategies. I will be doing each day's practice with you so we can check in along the journey. Each day we'll focus on the practicalities of living from one of the 3 great loves of life that feed mind, body and soul – good relationships, self-compassion and finding flow in personal passions.
Spark Your Relationship E-course and Take Two App
I'm a major contributor to the Spark My Relationship e-course, an initiative of I-do Podcast founders Sarah and Chase Kosterlitz.
It's a solid resource if you're looking to revitalize your relationship and get a bunch of real strategies for greater happiness that you can implement straight away to make things better.
I'm not associated with the Take Two App except to say it's a lovely app to keep your couple relationship top of mind by providing little reminders and snippets of inspiration about healthy relationships – daily, at a time of your choosing.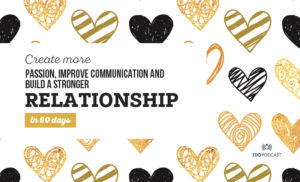 Lovelands Sessions
From time to time I run personal growth groups called The Lovelands Sessions. You'll find a listing of upcoming Lovelands Sessions here.
The Couch Inner Circle Facebook Group
For regular insights, inspiration and connection join me on my virtual couch for a chat.
My Facebook group The Couch is a place of connection and insights about life, love, relationships and pursuing life passionately.
From time to time in the group I share insights, articles and offers only for my inner circle.
The Couch group also gets updates on the 3 Loves Project – an experiment where you're invited to devote a minimum of 3 conscious minutes a day to positive mental health strategies, right alongside yours truly!
If that sounds like it would add to your world, join me, my colleagues and friends for virtual coffee and time out talking life, love, relationships, our challenges and passions.
Or click the Facebook icon at the top of the page and join The Couch from my page. I look forward to getting to know you better there.
Support Lines and Emergency Contacts (Australian Based)
For all people at acute or immediate risk of suicide or self-harm in Australia:
Dial 000 for Emergency or Mental Health Telephone Triage 1300 792 977
Other Services:
Beyond Blue 1300 224 636
Medicines Line 1300 633 424
Child Protection Crisis Line 13 12 78
MensLine Australia 1300 789 978
DirectLine (Drug & Alcohol) 1800 888 236
Mental Health Advice Line (VIC) 1300 280 737
Domestic Violence Line 1800 Respect 1800 737 732
OCD & Anxiety Help Line (VIC) 1300 269 438
Emergency Assistance 000
Parent Line 1300 301 300
Gambling Helpline 1800 858 858
Poisons Information Line 13 11 26
GP After Hours Support Line 1800 022 222
Quit Line 13 78 48
Grief Line 1300 845 745
Suicide Callback Service 1300 659 467
Kids Helpline 1800 55 1800
Lifeline 13 11 14
Youth Beyond Blue 1300 224 636