Lovelands is about embracing your demons;

being the hero of your own life, through courage, self-awareness and love.
It's the countdown to the publication of my book Lovelands (if you haven't heard, the big date it goes on sale is March 1, 2017). It's a huge time for me as this book has been a work in progress in my life for perhaps 15 years. The publication of Lovelands is truly the wrapping up of one era in my world and a beautiful segue into a new phase of life, as an author. I've paused consulting as a psychologist for the time being so I can focus entirely on writing.
Lovelands is part memoir, part self-help for any soul who wants to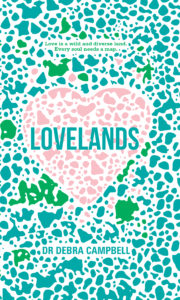 more deeply understand emotional health and freedom, and how to create the life and relationship they desire. It's about finding your way through challenges that inevitably get in the way for all of us, and coming out the other side wiser.
For me, it's such a vulnerable feeling of being utterly exposed now, getting ready to release a memoir that covers both the deeply personal and professional – but despite feeling really scared sometimes – overall I love this feeling of freedom that's brewing and gathering breadth around me. Whatever comes, I'm utterly glad I wrote my memoir because its enormously free-ing to say openly – this is me and these are all my terrible mistakes and some great things too. I'm better, wiser for all of it.
I know through most of my life I was carrying around anxiety and a sort of low level shame about my imperfections and poor choices that always made me want to keep my head down just a little bit – constantly, but unconsciously alert to being discovered as faulty, deficient, not good enough. Those feelings, which were native to me since childhood, intensified around the break-down of my first marriage and my less than perfect handling of all that ensued.
I could have retreated into shame because I'm not outwardly the badass warrior type. But, although I come across softer than some, retreat has never sat well with me. When life fell apart again a bit, years ago for the umpteenth time, I decided to step into myself more deeply and own my good, my bad, my ugly and write it all out with the lessons I learned.
I thought – people will judge! Yes they will, they do. No matter what you do or say, whether you step forward or hide – people will still judge. It gives many people pleasure (I've sure as hell done it) – why not give them a little more to work with? So I wrote it all out. Writing Lovelands was for me, for others, so maybe they didn't have to screw up exactly like me at least. Over years, on and off – coming back, putting it down, living it, coming back again. Then eventually, after a lot of editing from a great editor, a publisher took it on. If I'd realised how helpful it was for me and everyone else to say it all sooner – I would have.
But then I guess I had to live it, didn't I? I had to live my journey through my Lovelands (my inner landscape) to this point, to gather the wisdom and awareness to interpret a useful story from a long, winding series of events. I had to suffer and make mistakes and even cause some suffering (albeit without wanting to) to have something deeply useful and fully authentic to say.
I could not more highly recommend writing about your life as a form of therapy; keeping a journal; or just writing when you have something to get out and process. It will help you and it might just help others to know you, or even themselves more deeply in the reading.
Lovelands is out March 1, 2017 from Hardie Grant Publishing or find Lovelands on Amazon Kindle.